Sponsored Links
Margot Gerster was "heartbroken" by the result of the US election and, to unwind, went on a hike with her daughter and dog through the woods in Chappaqua, New York. The last person she was expecting to see, presumably doing the same thing, was the woman who lost to Donald Trump just two days earlier. But that's exactly what happened.
A photo of the hiker standing alongside Hillary Clinton marks the first appearance of the Democratic presidential candidate since her concession speech on Wednesday. She even said Hillary's husband, Bill, took the photo. Ms Gerster, who lives in White Plains, shared her story on Facebook. The post had been liked more than 110,000 times and shared by some 9,000 users before she made it private.
See photo below...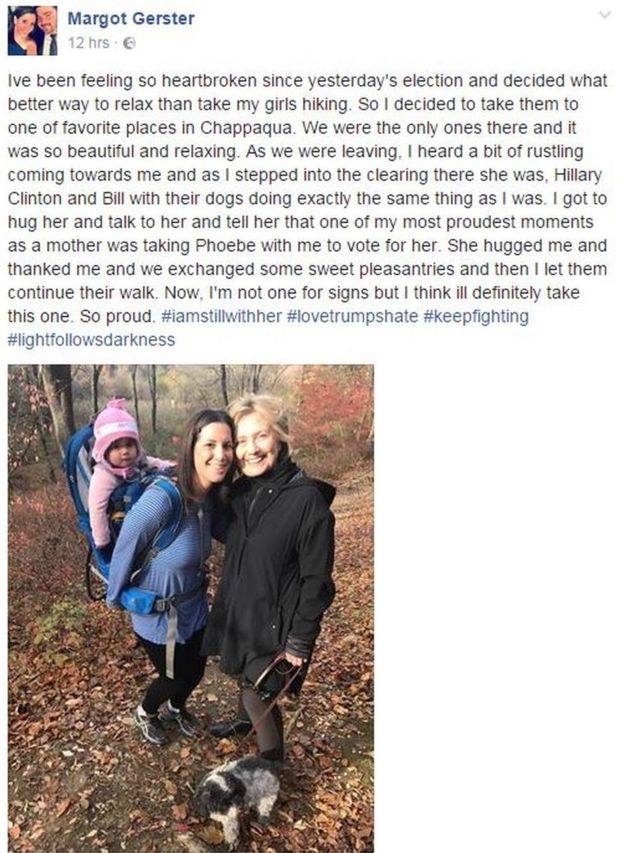 Follow Us on Twitter!
Like Us on Facebook!
Do You Need a Sugar Mummy, Sugar Daddy, Girlfriend, Boyfriend Wife or Husband? If Yes, Then Click Here For Details