Sponsored Links
Former presidential aide, Reno Omokri has said one of the reasons why Nigeria is in a recession is because the minister of finance, Kemi Adeosun, did not attend a university. The former presidential aide alleged that Kemi Adeosun graduated with a Bsc from a polytechnic which was upgraded to a university in 1992 and is now known as the University of East London.
Omokri made the claim on Thursday, November 24, in reaction to a newspaper report about a new official portrait of the minister. He said that after 38 days left in 2016 and the budget is not ready, he expected better news from the finance ministry than the release of a portrait. He also retweeted a tweet by another user explaining that Adeosun graduated from a polytechnic and not a university. See tweet below...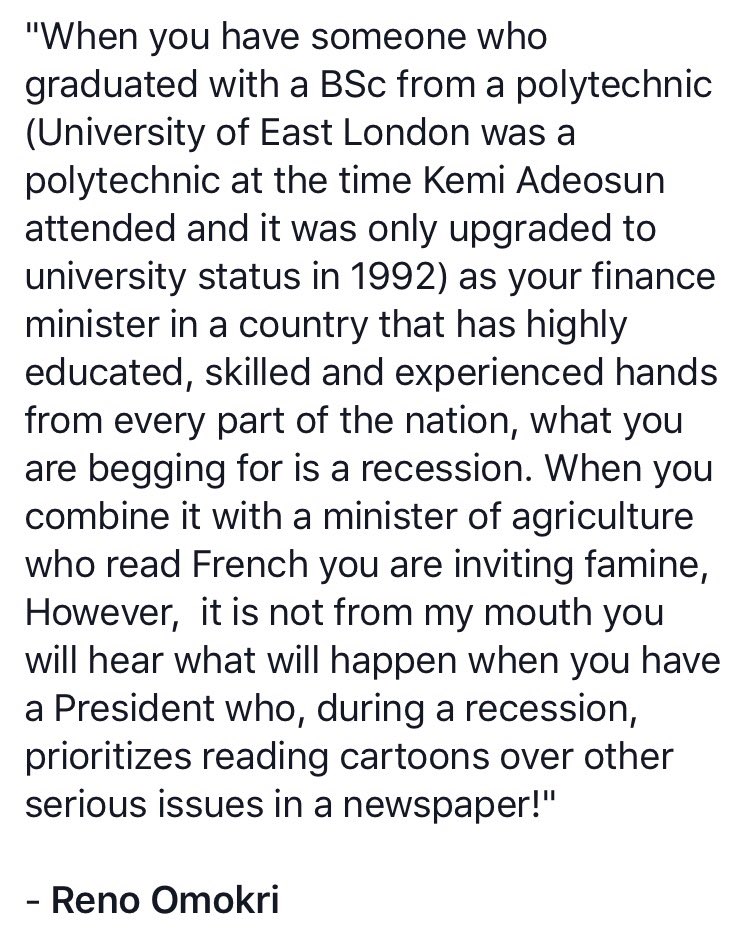 Omokri then uploaded a table on his Facebook page allegedly showing that the institution the minister graduated from is one of the worst in England.
Kemi Adeosun's institution ranks number 1 among the worst institutions in England according to the table uploaded by Omokri.
Follow Us on Twitter!
Like Us on Facebook!
Do You Need a Sugar Mummy, Sugar Daddy, Girlfriend, Boyfriend Wife or Husband? If Yes, Then Click Here For Details