Sponsored Links
Nigerian Senate on Wednesday criticised President Muhammadu Buhari's 2017, 2018 and 2019 Medium Term Expenditure Framework and Fiscal Strategy Paper, MTEF & FSP

President Buhari had in October forwarded to the Senate the 2017, 2018 and 2019 Medium Term Expenditure Framework and Fiscal Strategy Paper, MTEF & FSP for discussions and subsequent approval.
Recall that the Senate had earlier dismissed the 2017-2019 Medium Term Expenditure Framework & Fiscal Sustainability Paper sent to it by President Muhammadu Buhari, describing the documents as "empty" and not worth considering.
But in a twist on Wednesday plenary, the senate described the "290 Naira per dollar proposal as unrealistic".
In his remarks during the debate, Senator Dino Melaye described the document as "a lie, not truthful and is not factual".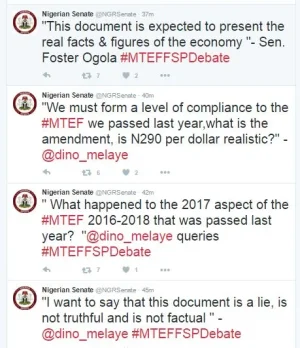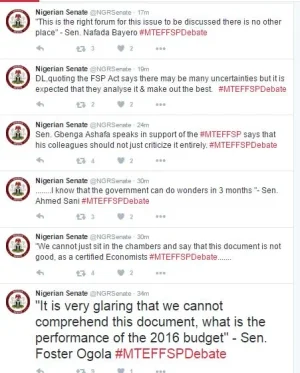 Follow Us on Twitter!
Like Us on Facebook!
Do You Need a Sugar Mummy, Sugar Daddy, Girlfriend, Boyfriend Wife or Husband? If Yes, Then Click Here For Details